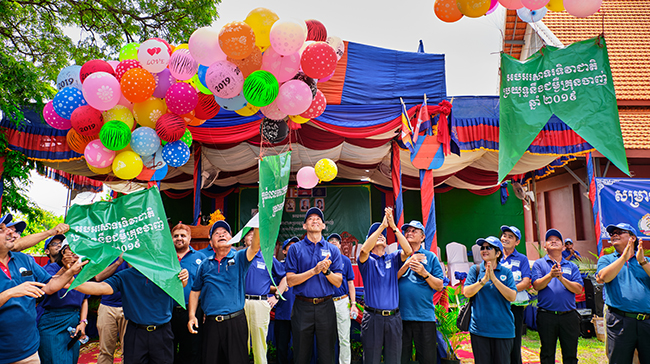 Why Communicate and Celebrate?
Communicating accomplishments and lessons learned from community engagement efforts can help get the word out, strengthen efforts, and honor those doing the work. Celebrating successes can help sustain and expand the work of engaging communities for health.
Key Questions to Consider
How will we document the work being done and the lessons learned?
How will we communicate successes and lessons learned with the community, stakeholders, funders, decision-makers, the public and more widely (e.g. other areas of the country or Region)?
How will we celebrate accomplishments and honor community champions?
How will we use what is learned to improve our community engagement effort (e.g. feedback loops)?
How will we institutionalize or sustain what works?
How will we use what is learned to advocate for further community and system changes to improve health and health equity?
Some Recommended Actions
__ Document the work done, highlighting the process and lessons learned for others to learn from (e.g. conclusions and recommendations from the evaluation).
__ Communicate lessons learned to communities and other stakeholders, decision-makers and wider audiences in other communities and countries.
__ Engage the media in communicating success stories.
__ Highlight the accomplishments and recognize champions, community members and outcomes. This may include through communication channels, at a ceremony, etc.
__ Develop feedback loops to use the information from monitoring and evaluation to adjust strategies and interventions (e.g. guide improvements, resource allocation).
__ Use the evaluation findings to advocate for sustained support of the efforts (e.g. institutionalize effective programs and policies) and/or for further practice, program and/or policy changes needed.
Examples of Communication and Celebration
Coming soon.
Resources to Help You Communicate and Celebrate
Resources from the Community Tool Box
Toolkits
Sustaining the Work or Initiative
Troubleshooting Guides for Solving Common Problems
There is no clear direction or communication with the group
Other Resources (reading, tools, examples, and PowerPoints)
Chapter 4: Getting Issues on the Public Agenda
Chapter 6: Communications to Promote Interest
Chapter 39: Using Evaluation to Understand and Improve the Initiative
Chapter 40: Maintaining Quality Performance
Chapter 41: Rewarding Accomplishments
Chapter 45: Social Marketing of Successful Components of the Initiative
Chapter 46: Planning for Sustainability
Resources from WHO
Template for documenting community engagement projects and activities (WHO-WPRO)
A Guide to Identifying and Documenting Best Practices in Family Planning Programmes (WHO-AFRO)
Resources from Other Sources
Coming soon.